The Bespoke Design Process
A Private Meeting
The beauty of collaborating with Ayah Al Bitar on a bespoke design is that every element has meaning and significance. In a private conversation, in person or online, Ayah will ask questions and invite you to share your thoughts and ideas to form a vivid picture of her subject and get a better idea of what you want to achieve with the design. Be it a gift embedded with love or a bespoke creation for yourself; Ayah will work with you in this meeting to translate your thoughts into tangible ideas. This is the perfect time to share any relevant imagery with Ayah, which might include photographs or personal effects.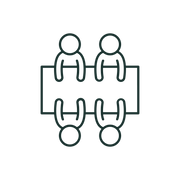 Design Consultation
Here, Ayah and her team will research the themes and subjects you have discussed before sketching the different design elements that will tell your unique story on the board. As a starting point for your design consultation, she will deliver an initial draft of your bespoke artwork, with the opportunity for two revisions to enable you to confidently sign off the design.

Please note: a 70% deposit is required at this time.
The Craftsmanship
Sourcing the perfect materials that will bring your unique commission to life is the next stage in the bespoke process. Taking into consideration all the different design elements, Ayah personally signs off all the materials and is meticulous about the details, overseeing every stage in the craftsmanship and collaborating with artisans and workshops throughout the world, a process that takes approximately 8-12 weeks depending on each design and its complexity
The Final Product
When the final touches have been added to your bespoke creation, Ayah inspects it for a final time. It is now ready to be dispatched to its new owner. Presented in its very own custom-made packaging that will protect your piece as it travels to its final destination anywhere in the world.

Please note: payment of the final balance is required prior to shipping.